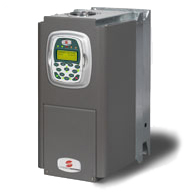 Contact TS 247
5-Function, all-purpose inverter, up to 2000kW
Automation applications incorporated in the inverters of the SINUS PENTA series allow a simple and inexpensive management of SERVODIAMETERS, DRAWING MACHINES, MULTIPUMP systems, ELECTRICAL AXIS motor systems and MULTIPOSITIONERS.
SINUS PENTA's five functions also allow to drive permanent- magnet, brushless asynchronous motors in V/F mode, Sensorless Vectorial control (open loop and closed loop) and closed-loop FOC.
SINUS PENTA may also operate in Regenerative mode, i.e. as an AC/DC converters for the DC supply of multiple converters. Mains power supply always provides sinusoidal currents and a unitary power factor.
Wide power supply voltage range, 200Vac÷690Vac
DC power supply range, 280÷970Vdc
Input frequency 50-60Hz
Power range 1,3 – 2000kW
Enclosure IP00, IP20, IP54
---
---